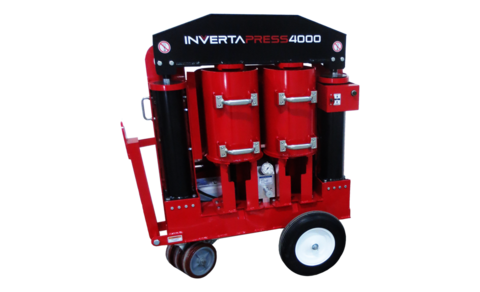 Contact Us For Pricing: contact@advantecbp.com
When dispensing two component materials, the dispensing system has one job. Deliver side A and side B materials at the same flow rate to achieve the correct mix every time. Even when one side has slower flow characteristics than the other. InvertaPress keeps you moving.

InvertaPress 4000 is a high volume dual cartridge dispensing system for the application of both one part and two part adhesives, sealants and coatings. If you like the simplicity and technical superiority associated with 1500 ml dual cartridge adhesive systems, but not the high cost, you'll appreciate InvertaPress 4000's dual piston design. One 32.6 liter A&B cartridge set contains more than 21 x the volume of one 1500 ml cartridge set. Perfect for large projects. Get the performance of a pump system without cumbersome maintenance requirements
Why Contractors like InvertaPress 4000
Versatile

 

– Dispense both one part and two part materials. 
Variable Speed

 

– Work at the pace that meets your needs.
Quick Change Out

 

– No flushing required. Switch from one product to another with no down time.
Equal Flow rates

 

– Proper mix when applying two part materials. Even when Parts A & B viscosities do not match.
Plug and Go

 

– Simply plug into a 120v electrical source and start working.
Maximum Productivity

 

– Supports multiple application tools at the same time.
Questions?

 

Contact Advantec Building Products for additional information regarding availability and technical support.
How it Works
Simply load two color coded InvertaPressPac 16.3 liter cartridges into position. Flip a switch, lower InvertaPress 4000's dual pistons to apply equal mechanical pressure to each cartridge. Side A & Side B materials flow, at equal rates, through supply hose to your application tool for the best mix possible.  
Peace of Mind
Unlike other dispensing methods, InvertaPress 4000 produces the optimal two-part mix every time, with no complicated adjustments.
InvertaPress 4000 Two Part Kit includes:

1 - InvertaPress 4000 Dispensing Unit
1 - Two Component Single Bead Applicator
1 - Dual 1/2"x50' IVP/SBA Two-Part Supply Hose
2 - Red

Dispensing Cap Assemblies

2 - Blue Dispensing Cap Assemblies
1 - 50 ft. Heavy Duty Extension Cord